Executive Programme in International Business (EPIB)
Introduction to the Programme
Executive Programme in International Business (EPIB) has been designed to incorporate all the important areas and disciplines relevant to international business activities. The syllabus for EPIB compares favorably with the syllabi of some of the world's best international business schools.
This management programme aims to develop candidates into professionals who are equipped with knowledge of the international business environment. With the introduction of the weekend EPIB, IMI has introduced a new dimension in the field of professional education by offering the Institute's well-established programme to working executives.
Succeeding in a dynamic and complex international business environment requires real-world skills and experiential learning.
Course Details
Objectives of the Programme
Conceptualization:To impart theoretical knowledge in the foundational and functional areas of international business
Analysis:To develop analytical skills among students for taking decisions at the workplace by imparting understanding of multi-disciplinary management tools and techniques
Application:To enhance understanding of real-world business complexities by exposing students to case studies and various experiential learning situations relevant to international business
Leadership:To inculcate values and attitudes which contribute to a social sensitivity & ethical behavior
Programe Structure
Duration of the Programme:11 months.
Terms:Three (around 4 months each)
No. of Courses:30 (10 courses per term)
Live Classes:310 hours of live interactive classes to be conducted on weekends
Delivery:Direct to Desktop/Direct to Device, where students can attend online sessions from anywhere using their laptops, tablets, etc.
On-campus Classes: 10 days of on-campus classes will be conducted. Five days each in the beginning and towards the end of the programme (80 hours)
Capstone Project:160 hours
Total Hours: 550
Pedagogy
Offline Mode (On-campus)
Online Mode
Frequency:Two (2) campus visits during the programme
Duration:5 days per term (10 days)
Number of hours per day:8 hours Involves group activities; team building activities; and interactions with business leaders and faculty members
Class Schedule :Number of hours per week: 10 hours

Friday 2 hours
Saturday : 4 hours
Sunday : 4 hours

Number of hours per week:10 hours
Please note:Classes will be held 3 days/week over 32 weeks, with 16 weeks left for work-life balance and internalization of knowledge gained.
Course Content
Term 1
Global Trade & Business Environment
Quantitative for Managers
Marketing Management
Financial Accounting & Analysis
Individual Dynamics
Managerial Economics
Business Communication
Information Technology for decision-making
Global Operations Management
Financial Management - I
Term 2
Quality Management (With Six Sigma Green Belt Certification)
Management Information System
International Marketing
Cost & Management Accounting for Global Businesses
Financial Management - II
Leadership and Group Dynamics
Macro-Economic Theory & Policy
Project Management
Business Research Methods
International Finance
Term 3
Business Analytics
Sales Force and Channel Management
Global Strategic Management
International Business Law - Practices
Trade Finance and FOREX Management
Global business Environment & Cross Culture Management
Logistics and Supply Chain Management in International trade
Entrepreneurship Theory & Practice
International Human Resource Management
Business Ethics & Corporate Governance
Capstone Project (at the end of the programme)
Admission Process
Minimum Eligibility Criteria
Graduation from any UGC-recognized university
Preferably two or more years of work experience. Freshers can also apply
Selection Procedure
Application form submission with all documents
Video conference-based interview with shortlisted applicants
Offer to join on First-come-first-serve basis to selected candidates. Only 50 seats are available.
The application process will be online. Click on Apply now button to Apply.
All candidates applying for the programme are required to pay a non-refundable application fee of INR 2,000 + GST.
Apply Now
FEE STRUCTURE
| | |
| --- | --- |
| Details | Fees |
| Course Fee | INR 1,95,000 + GST |
| Alumni Fee | INR 15,000 + GST |
| Books & Study Material Fee | INR 30,000 + GST |
| TOTAL FEES | INR 2,40,000 + GST |
| Campus Fee** | |
| Day Classes + Stay | INR 2,500/day + GST |
| Day Classes (without stay) | INR 1,500/day + GST |
PAYMENT MODE
All fees are non-refundable
Fees can be paid by Cheque/Demand Draft/NEFT/Payment Gateway
INSTALLMENT STRUCTURE*
| | | |
| --- | --- | --- |
| Details | Date | Amount |
| Installment 1 | As per offer letter | INR 80,000 + GST |
| Installment 2 | 31st January 2021 | INR 80,000 + GST |
| Installment 3 | 31st May 2021 | INR 80,000 + GST |
*All installments are interest-free.
**Campus fees are to be paid directly at the Institute during the visit. Campus fees are actual charges towards boarding & lodging, all meals and refreshments during the campus classes.
HOW TO APPLY
All candidates applying for the programme are required to pay a non-refundable application fee of INR 2,000 + GST
Important Dates
| | |
| --- | --- |
| Application Deadline (on 'first-come-first-serve' basis) Till: | 30th September 2020 |
| Personal Interview Dates: | All Saturdays till 3rd October 2020 |
| Issue of Offer Letter: | Three days after Interview (Candidates will be required to accept offer within 7 days of issuance of offer letter by paying offer acceptance fees) |
| First Installment Deadline Date: | 15th October 2020 |
| Orientation & Course Start Date: | 17th October 2020 |
Certification
On successful completion of the academic requirements of the one year (EPIB) programme, the students will be awarded Executive Programme in International Business (EPIB).IMI alumni status will be awarded to all (EPIB) graduates.
Sample Course Certification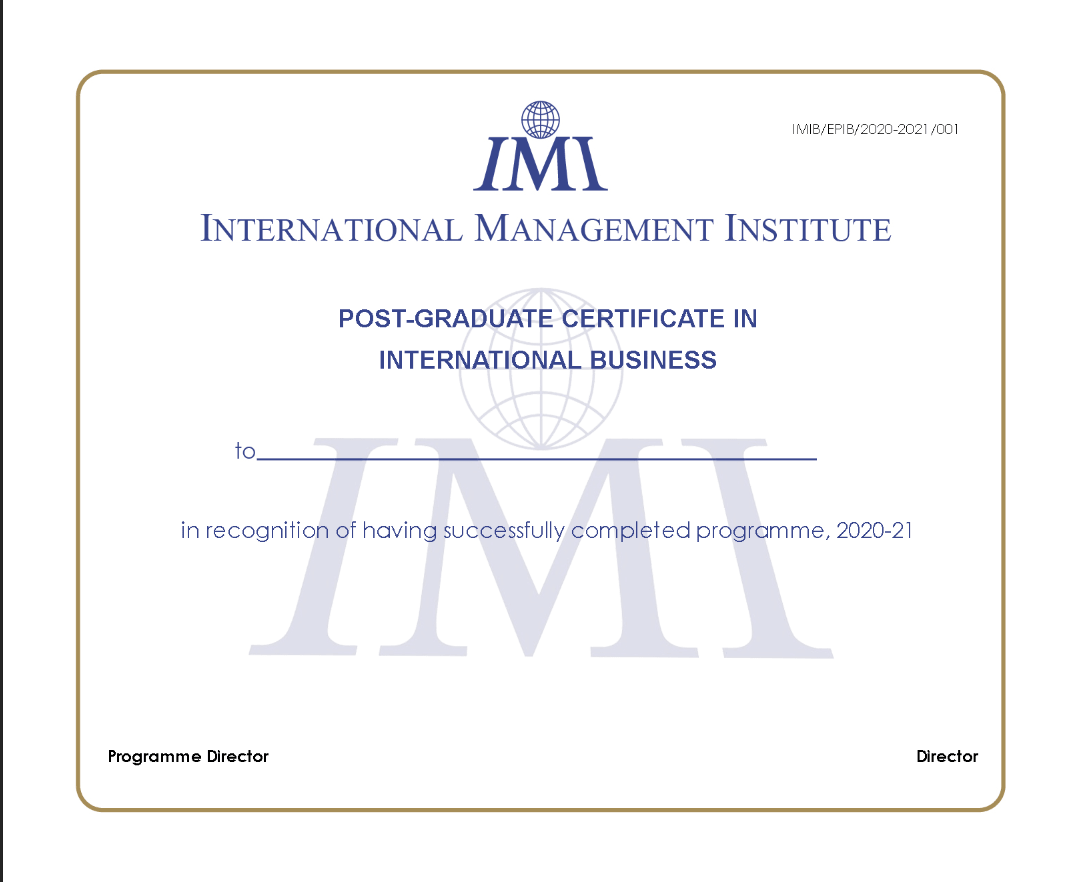 Industry Recognized Add-on Certifications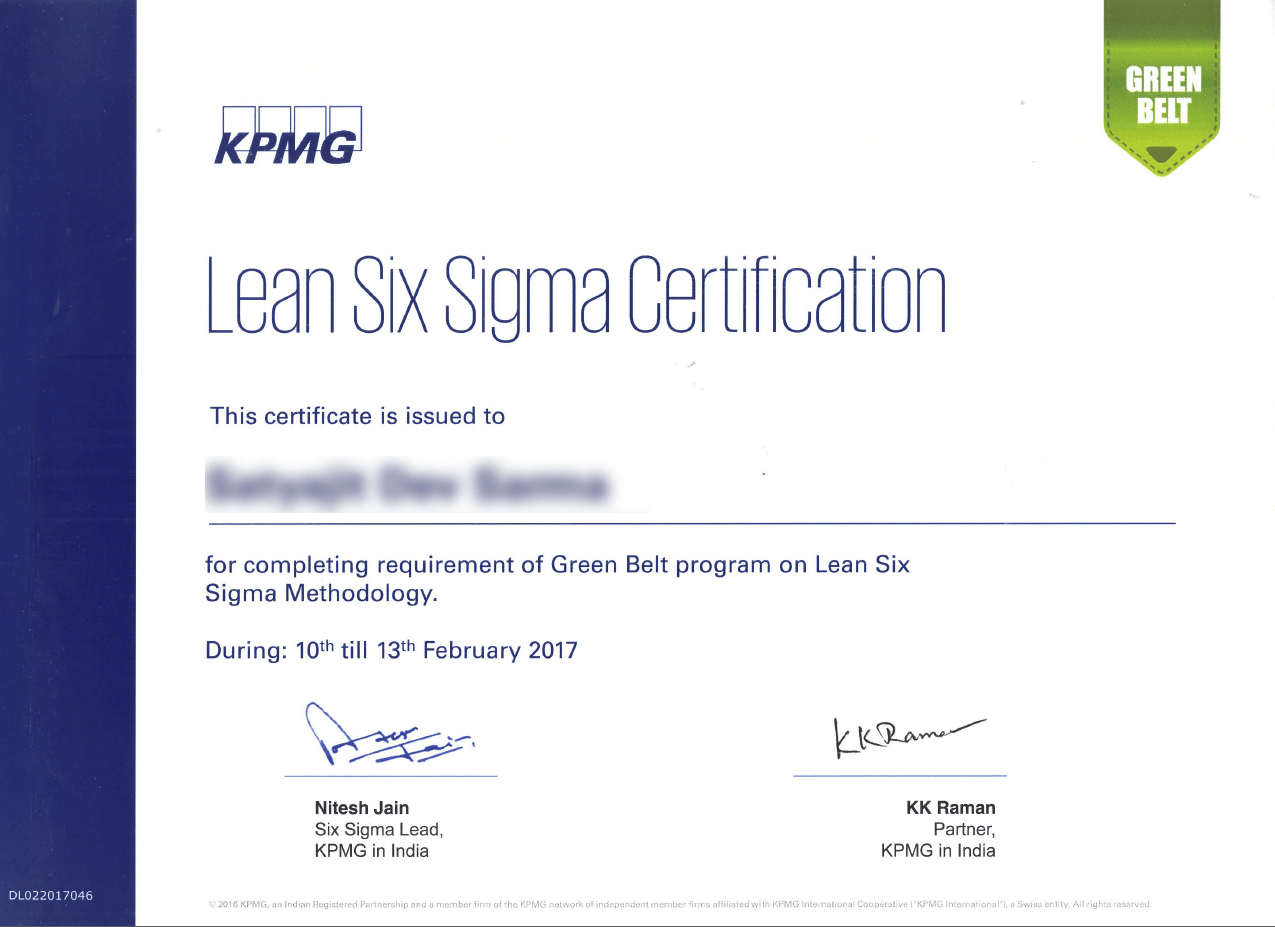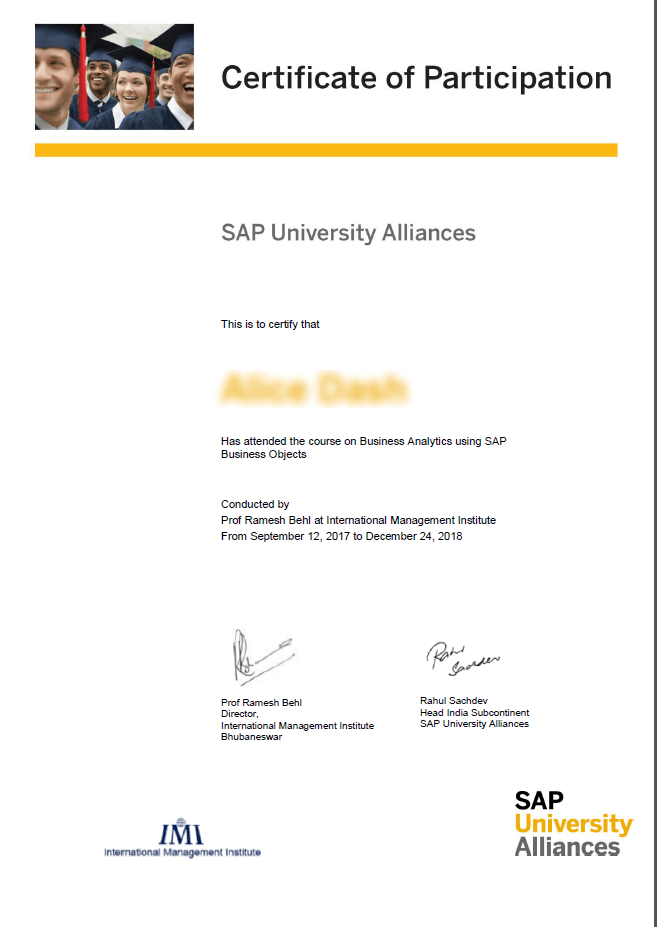 ABOUT THE INSTITUTE
International Management Institute (IMI)
International Management Institute (IMI), established in 1981, is India's first corporate-sponsored Business School. IMI follows international standard curricula which has been enriched in the past by its academic collaborations with erstwhile International Management Institute, Geneva; Faculty of Management, McGill University, Montreal, and Manchester Business School, U.K. The school, with strong support from the Indian industry, has grown into one of the most prestigious business schools in the country and has been consistently ranked amongst the top B-schools in India.
Success link
Error link